Rare, Shureido Ceramic Karate Figurines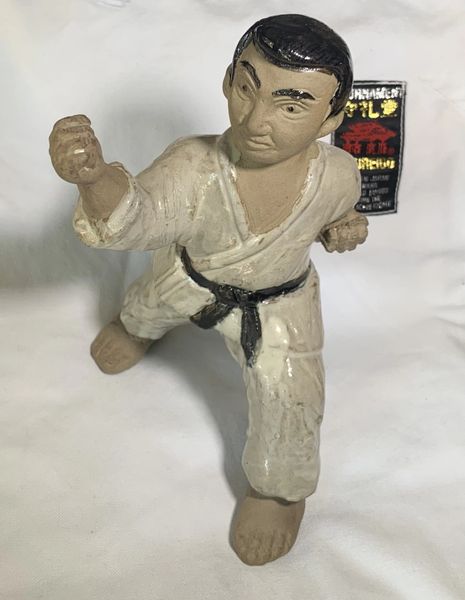 Rare, Shureido Ceramic Karate Figurines
These hand-sculpted, hand-painted, and hand-glazed clay figures are rare and individually unique. In the tradition of the highest standard set by Shureido brand, each figure is of the highest quality of craftsmanship. The artisans put significant care and attention into sculpting each figure to reflect accurate positioning and in a deeper sense, the tradition and philosophy of karate. Having been individually created each figure has its own individual character. No two are exactly like. Each is approximately 8" tall.
Each figure is posed in a traditional karate stance.  Their bodies denote strength and power. Their eyes deep focus in concentration. Their hands, positioned accurately, exemplifying elegance and all that karate is.
Available individually or as a set.
Neko Ashi Dachi (Cat Stance): Light on the feet, ready to pounce.
Shiko Dachi (Deep Squat): A deep and firm squat indicative of the traditions of Okinawa and Karate. Hence, positioned perfectly.
Zenkutsu Dachi (Deep Back Stance): Standing firmly, immovable. A middle block for protection.
Each figure is absolutely authentic from Okinawa, Japan as indicated by the words "Shureido Okinawa" that are hand inscribed on the reverse of each figure.
Beautiful reminders of your commitment to the arts. Will last a lifetime as an heirloom for the timeless future.

Available individually, as a pair, or discounted as a set of three. These are rare and available only while supplies last.
Reviews