Rock Sauce Topical Pain Relief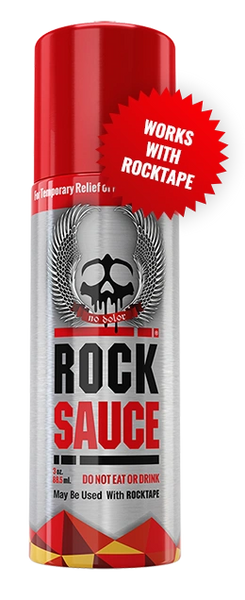 Rock Sauce Topical Pain Relief
Bring the fire.
The strongest topical muscle and joint pain relief you can buy.
Say hello to hot. RockSauce is a topical pain relief cream that works by providing incredibly strong heating sensations that last for hours – with powerful ingredients like menthol and capsaicin that work together to soothe sore joints and muscles.
Best of all, it can be used with RockTape – it soaks right through , without compromising stickiness – delivering pain relief in combination working with our incredible tape.
Our convenient 3oz roll-on bottle means your hands stay clean and clear of our powerful active ingredients. Take it anywhere, apply it anytime with no mess and no hassle.
Ingredients
Active: Methyl Salicylate (20%), Menthol (10%), Capsaicin (0.002%). Inactive: Aminomethyl Propanol, Aloe Barbadensis (Aloe Vera) Leaf Extract, Arnica Montant Extract, Carbomer, Cetearyl Alcohol, Ethylhexylglycerin, Ethylhexyl Palmitate, Glycerin, Methylisothiazolinone, Propylene Glycol, Tocopheryl Acetate, Water.
Really Powerful
Seriously – RockSauce is no joke. We've had trouble exporting it to certain countries because of our Capsaicin content.
Multiple Uses
It's not just for pain. RockSauce makes a great pre-tape prep, Graston, A.R.T. or IASTM lubricant, or even as a preventative measure before your workout.
Reviews